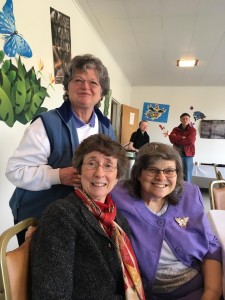 New -Â Piano Purchase Fund Letter – Please read this letter regarding the opportunity for the Church and Praise Team to replace our piano. Click the link for online donations for the Piano Purchase Fund.
We have resumed in-person Sunday Services!
Since the risk of Covid-19 is still present, we are being cautious:
We encourage everyone (vaccinated or not) to wear a mask; we have disposable masks if you need one.  Hand sanitizer also provided.
Seating is arranged in "family clumps" to provide some social distancing during the service.
Service is limited to one hour, with no coffee time afterward.  Communion (first Sunday of each month) is provided in an individual, commercially pre-packaged format.
We are keeping doors and windows open and using fans to maximize air exchange.
For the winter months we are utilizing multiple air purifiers in the sanctuary and classrooms.
For people for whom in-person services are not yet comfortable (or are not safe), and for people who just can't make it to church, we are continuing to record and post our services.
Service for Sunday, December 3, 2023.
November 26, 2023 – Annual Church Charge Conference
New – Weekly Bulletin – Announcements, Praises, Joys and Concerns
New –30-minute-food cookbook! – delicious quick recipes from SUMC members
Past Sunday Services (March 15, 2020 to date).
We have implemented Online Giving. Please go to our Online Giving page for details.
---
Shoreline Church is a friendly, caring congregation committed to helping each other grow in our relationship with God. 
Sunday Service: 10:30 AM (nursery/childcare provided)
We invite you to visit us Sunday to experience our church family.
Shoreline Church is a United Methodist Church.
United Methodists are followers of Jesus Christ.
United Methodists believe that our knowledge of God comes from Scripture, from Christian tradition, from reason, and from our personal experience of God. Reason is one of God's gifts and is not in opposition to faith. Rather, reason is essential to our understanding of Scripture, of the world we live in, and of the relationship between the two.
United Methodists are a diverse community. All persons are welcome in the United Methodist Church. We are firmly committed to inclusiveness. We celebrate a diversity of people, ideas and cultures, and are enriched by our broad history.
United Methodists are mission-oriented and socially conscious. United Methodists have a long history of concern for social justice. We are aware of world events and strive to help those in need. United Methodists are one in faith and tradition with Methodist Christians around the world.
United Methodists are involved. For more than 200 years, the United Methodist Church has expressed concern for the worker, the sick, the poor, the orphaned, the aging, the impaired, the oppressed and the imprisoned. United Methodists positively influence society through responsible social action.